Hello readers, Here is an exact guide on each aspect of on page SEO factors, have a look.
SEO (Search Engine Optimization)
It is the process of increasing the quality traffic to your website from the organic search results on search engines.
There are 2 major types in SEO:
On-Page SEO: it is the practice of optimizing individual web pages in order to rank higher and earn more relevant traffic in search engines.
Off-Page SEO: This technique used to improve the position of a website in the search engine results page (SERPs).
Here in this article I would like to guide you with the vital On-Page SEO factors:
If you want to pacify the search engine, you need to consider these SEO factors when creating a new website or whenever adding content or pages to an existing website.
Page Titles
Meta Descriptions
Meta Tags
URL Structure
Body Tags (H1, H2, H3, H4, etc.)
Keyword Density
Image SEO
Internal Linking
Page Title:
These are the most significant SEO factors. Each page ought to have its own unique title including the main keywords for that page.
This is the view when you search in a search engine so your post has showing up.

Meta Description:
These are also considered as important place to include relevant keywords for your content as these are used on search result when your page is listed. Here is a view of Meta description.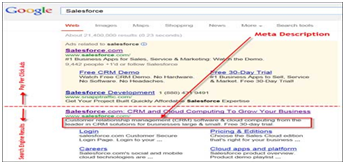 Meta Tags:
Every page in search results listed below includes a set of keywords in the form of meta tags which should have all the relevant keywords.
URL Structure:
SEO friendly URL bring better crawling as it is highly recommended for each of your pages. URL which includes the location of that targeted keywords can be a major influence. For the detail information here is an infography, have a look
Body Tags:
These tags helps to make it easier for people to read your content as it breaks into smaller sections and paragraghs. Here is the descriptive screenshot of body tags:
Keyword Density:
As mentioned above keywords are must in content but there is limitations for adding keywords so never try to overuse them just for serach engine robots in which search  engine may lead to ban your site. So to overcome this keyword density should 2-5%.
Image SEO:
To have a good visual appeal on your site; adding images is the best way which can also improve your site SEO. Include descriptions and title for your images and make them even more useful with SEO.
Internal Linking:
This can be a good weapon in your SEO store as it ensures that your site gets properly crawled and allows search engines to find all your pages. Increases the Google Page Rank of your pages.
Its an worth spending time on implementing these vital factors to improve your site. Let us know, if you need specific details on each topic of on page SEO factors, contact us.
Take a look on our SEO services: SEO Company in Bangalore | SEO Services Bangalore | Best SEO Company in Bangalore