Team outings are the magic wand in the corporate world. It is the best way to facilitate bonding with your team members, reduce employee stress, and give them an opportunity to get to know one another outside of the office.
one such outing was planned by team ultimez .
The talk about the trip was going since a week and finally on Friday, the excitement blooms on everyone's face it was the time when we rushed to pack for a vacation.
We Are on a Trip to One of the Beautiful Destination, Goa
On early Saturday, everyone hurled their bags and headed towards the office and from here our journey starts. Initially, we were given the introductory talk and soon snacks were distributed. As the car's wheels began to spin new and funny games ideas revolves around everyone's mind. Soon everyone started marking their presence with blissful songs and sharing their school/college days and other fun experiences. With lots of selfies and entertainment, we reached GOA around 2:30 PM.
Further, without wasting much time we headed towards a restaurant for lunch and enjoyed the delicious Goan cuisine.
The evening started with an astonishing pool party in the hotel we stayed. The pool party was a perfect place to discuss everything about our favorite sparkly little talks- we played Games, danced and had a perfectly wonderful evening between the harsh light of the day and the dead darkness of night.
By 9:00 pm we ended up the pool party and sharp at 10:00 pm, we walked towards Baga beach for dinner. Baga is known for its lively and throbbing nightlife scene and beach parties that go all night long. From glowing neon-lights to the sounds of the coolest DJ, the place was brimming with amazing nightclubs that will satisfy the party animal in you. After spending some quality time at Baga beach, we walked back towards the villa around 2:00 am after a wonderful bash.
Day 2 :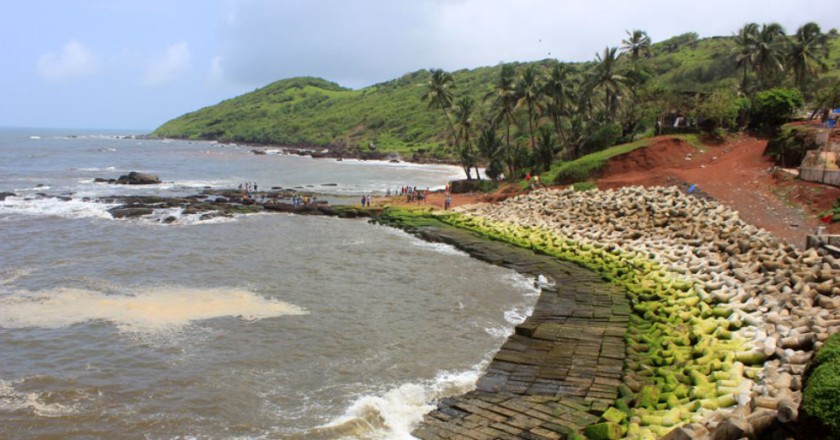 The day started with the first ray of sunlight and the rest of the good things just follow. At 7:30 in the morning, we all moved towards Anjuna beach for a walk. The beach was not only a sweep of sand, but the sea glass, shells of sea creatures,  the seaweed, and the incongruous objects were washed up by the sea. However, it's true that after a visit to the beach, it's hard to believe that we live in a material world. Then around 10.00am, we circled back to catch up delicious breakfast. 
Whoever said money can't buy happiness simply didn't know where to go shopping.
Other than partying and chilling at the beach, shopping in Goa is one of the best things to do. Around 1:30 Pm we moved towards Anjuna beach for shopping. When you hear of shopping in Goa you don't imagine shopping for designer brands or air-conditioned mall instead, you think of flea markets and local markets.
After shopping, sitting on the beach and watching the sea with relaxing sounds of paradise and ocean waves adds a perfect end to the perfect day.
Finally, it was lunchtime, by then and we had to check- out after lunch. So, we packed our bags had lunch and left Goa with complete satisfaction.
Below picture shows
Ready to join our crazy party? Follow us on Instagram, Facebook  Linkedin, and Twitter