Let's find what makes a great logo and what makes the difference. With the end number of logo existence, it doesn't seem difficult to find examples of great logos. Moreover, it's crucial to know what your company does to ensure its logo represents effectively.
What Makes a Great Logo?
Great logos are made to identify.  A good logo is appropriate, graphic, practical, simple and conveyable a projected message. However, they are the embodiment of an entire company, a story teller about quality and character of the product it represents. A great logo will always be inspired and get immense success to the company.
On the contrary, a poor logo can be a disastrous for a company, even if a services and products are best but being unprofessional, offense and confusing logo can definitely turn off customers and also results in less credibility. No company should take the risk (taking brand lightly) as it seems harder in long run and sometimes may go out of business.
Related Article: Key UX Design Tips to enlighten your website
Here are top qualities of effective and great logos, consider these tips into practice for your business: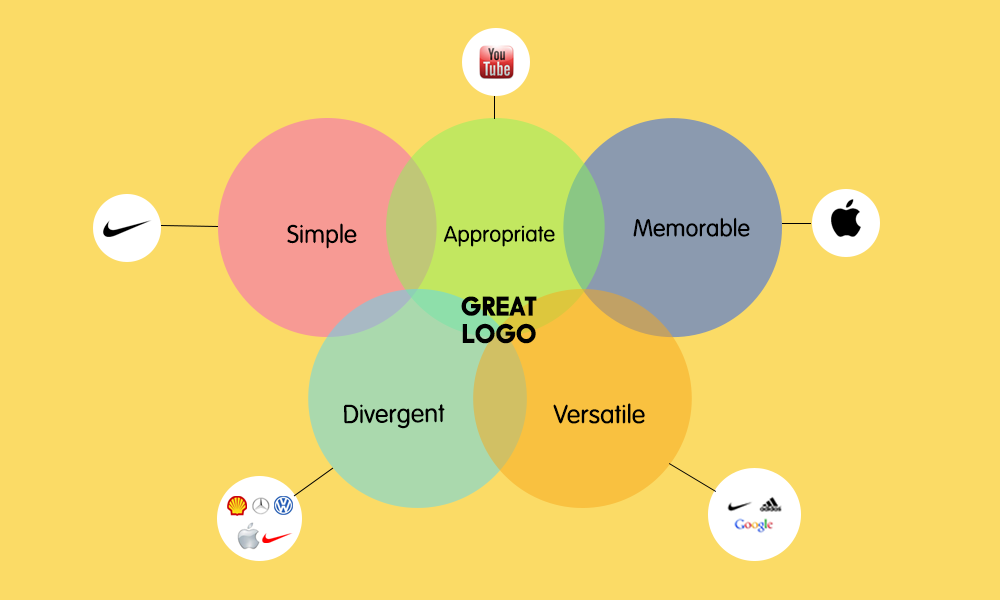 Simple:
If you want your logo to be easily recognizable, you need to be simple and elegant. That's the fastest way users will notice and remember your brand. An expert says, "mystifying logo design not only makes difficult to replicate and maintain but also fails to engage your audience."
We cannot avoid the fact that a simple logos are often incredible, diagnose and most effective in conveying the requirements of the clients.
Memorable:
It's all about leaving an impression rather than being forgettable. It's greatly important for having a memorable Logo. This means it should be memorable to a person who has seen only once and must be able to describe the logo to someone else. You need to make it certainly a high ranking; thereby, ensure that your design remains in your user's minds.
Divergent:
You must never look alike your competitors instead your logo should set you apart. It seems challenging to stand out amongst the crowd in today's marketplace. But without a distinct logo design, seems difficult for your potential clients to recognize your brand and may end up going with your competitors rather than choosing your service.
Related Article: TIPS FOR LOGO DESIGNING
Versatile:
You should think out of the box by considering various application rather than just design for one size or medium. The graphics of the great logo have to be so versatile enough; they can be analyzed in many different mediums. Many organizations consider it in different sizes, mediums, and applications without losing its power. So carefully craft your logo;
Appropriate:
A great logo should be appropriate. For instance, "McDonald's" with the initial 'M' created an icon which is simple and visually pleasing. It's important to consider to create an appropriate logo that communicates the right style and tone. This also is concerned with what type of business/products your logo conveys.
A great logo will always adhere to design principle, functional, representative and unique.
Ultimez Technology – being the professional Logo design company Bangalore has prolific graphic and logo designers. We are conversant with the approaches "what makes a great logo" thus we ensure our clients have the finest logo that conveys their business.
Contact Details of Ultimez
Call: +91 8095 715 366
Email: [email protected]/[email protected]
Skype: ULTIMEZ
Website: https://ultimez.com