Facebook is working on a new update that allows users to keep their Stories beyond 24h. The feature was first spotted by Jane Manchun Wong when it was still in beta version.
users will now have a choice to choose their favourite expired photos and videos. In addition, they can arrange the stories into sections which can be named and these sections will have cover images to display on the profile.
Sounds quite similar to Instagram  Highlights  right?
The feature was introduced in response to user's request on keeping their stories more than 24 hours; in this regards, Facebook official has explained as follows.

"People have told us they want to keep a track of stories that matter most to them. We'll soon start testing a new feature highlights on Facebook, which provides  a way to choose Stories to stay on your profile, making it simple to express who you are through memories."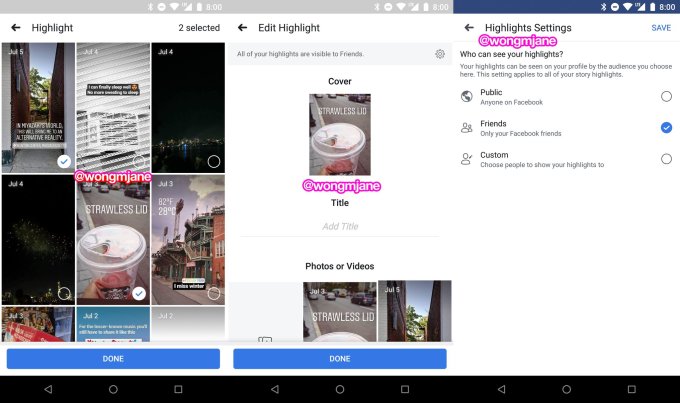 How Highlight feature works ?
The new feature "Highlights" occur on a horizontal scrollbar. It provides information about how many people viewed your highlights. By default, the Highlights will be available for all the friends to view. However, this can be changed manually, by restricting it from few friends or even making it public.
This looks like a good tool for those who wish to build an audience or showcase their personality by more than just albums photo
However, it is a good move by Facebook to bring the Stories Highlights . It looks like it's not just about who brought 'Stories' into our lives, but about who gave us the best possible version.
You may also be interested in another update "DO NOT DISTURB" in Facebook and Instagram.