After releasing "All are caught up" feature that helps Instagram users keep track their in-app actions and limit notifications. Now, both Instagram and its parent company Facebook has something new for its users.
Excited?
Let's see what's at the horizon!!
Instagram testing a "Do Not Disturb" feature to put off notifications
Instagram and Facebook are both working on a new feature which provides users more control over when they receive notifications in their app.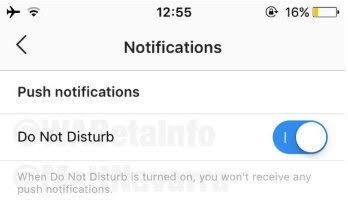 The new feature allows users to turn off notifications from their application for 30 minutes, one hour, two hours, eight hours, one day or until the user turn it off.
Both platforms have embedded "Do Not Disturb" feature in their code and is in Beta. The feature is coming one month after Google and Apple have announced that their OS will soon provide Do Not Disturb option.
However, there is no much information on when the new feature will be released globally.
Instagram Tests Ability to Limit Story Views to Specific Friends
Instagram is testing "Friend List Stickers". This is a game changer as it enables customizing audiences per Story! pic.twitter.com/mrjPGr6xs1

— Jane Manchun Wong (@wongmjane) June 20, 2018
Instagram currently offers the ability to hide stories from specific users. The platform is testing a new feature named "Friend List Stickers",  which allows users to post stories that are only visible to selected groups of friends. The feature was first spotted by Jane Manchun Wong.
However, the report suggests that Instagram will display the following message while using this feature!
"When you place one of these stickers on your story, only the people on that list can see it."
That message is then followed by a button to generate a list, which allows users to choose people they follow. However, we can assume that multiple lists can be created and, users can select any list from created ones rather than creating a new one every time.
Friend list stickers provide user privacy. However, that might be less convenient for people with a lot of followers. While this feature has only been spotted in testing for now, so there's a good chance to see in an upcoming app update.
Hope you found the article interesting. Stay tuned for more updates and the latest trends on your favorite social media platform. Do comment your opinion on this latest feature.