Instagram has been frequently updating quite amazing and innovative features for a couple of months. Yes, you got me right! I am back with one more latest update from Instagram. 
New Instagram Feature – "You're all caught up"
When you scroll your Instagram feed, you may often wonder if you've seen all new posts posted since your last visit. Right??? 
Don't fret over it now!. Instagram has recently open up an unique way that helps user to keep track their news feed and limit notifications.
Wondering what is "You're all caught up"?
On July 2, Instagram announced the launch of its new feature 'You're all caught up'. Currently, Instagram is showing a pop-up message for group of users once user have browsed through their timeline, which says, "You're All Caught Up – You've seen all new post from the past 48 hours."
This feature will notify after you end up seeing all posts uploaded in last 48 hours. Keeping a record on your seen posts on Instagram is not simple. However, with this new feature you won't be missing any new post of your feed. 
The notification appears as a simple blue tick mark enclosed in a circle, with 'You're All Caught Up' message on the screen. Also, it shows the line that clearly indicates the partition between old and new posts.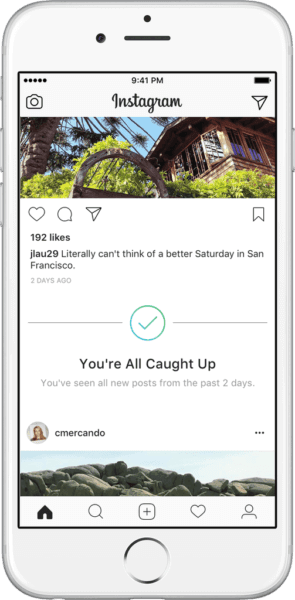 Though, it is still unclear whether this feature shows all posts from last two days or the best ones that algorithm decides.
The feature is currently available for both Android and IOS users.Previously, Instagram was working on "New posts" button to help user not to skip any previous post until they tap on it. But unfortunately this feature was not released. Let's see Instagram's next move on releasing this feature.
For more latest updates on social media and web, be connected with Ultimez Blog.
Follow us on Twitter, Linkedin, Instagram and Facebook