Today's modern information systems typically use computers and are connected through a network. Every single industry sector is transformed by digital technologies. We are living in a stage where everything is managed by technology. So, how can healthcare sector remain behind?
 The latest technology trends have revolutionized the field of medicine. At present, most of the healthcare sectors have effectively adopted the latest technologies and those who have not, are in a hurry to adopt the same keeping in view its benefits.
Let Us See a Few Technology Trends in Healthcare
Cloud Computing in Healthcare
Cloud computing is an evolutionary step in the healthcare sector. It makes the whole process paperless. The traditional method of storing patients records is now outdated. Hospitals are now storing the patient records in the cloud, allowing both patients and doctors to increase accessibility. Moreover, the technology makes it much easier to retrieve patient records for use. This means you don't have to pay for storing and maintaining this data locally.
According to a recent survey, 60% of communication with the healthcare providers is done through a cloud. It has also opened the door to telehealth – a means of enhancing healthcare with mobile technologies. Doctors can perform consultations, via video-conferences, and initiate home monitoring services remotely through the cloud.
Iot in Healthcare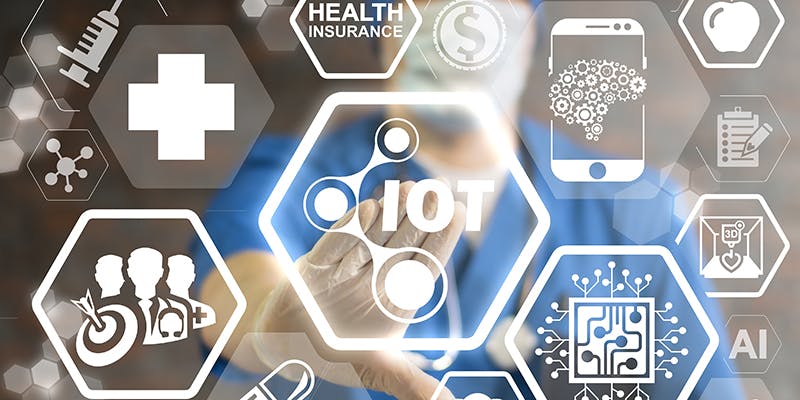 This technology is set to transform the healthcare industry, with its multiple potential applications, from remote monitoring to medical device integration. With IoT, patient monitoring can be done in real-time, by eliminating the need for doctors going out and making visits. Also, patients can use software and mobile applications to access their health, this way patient can be sure about the progress on their health.
The greatest aid of this technology in healthcare is its ability to help disabled people. Now we have IoT-enabled wheelchairs, hearing devices, Eyeglasses etc, which is helping many people.
Chatbots in Healthcare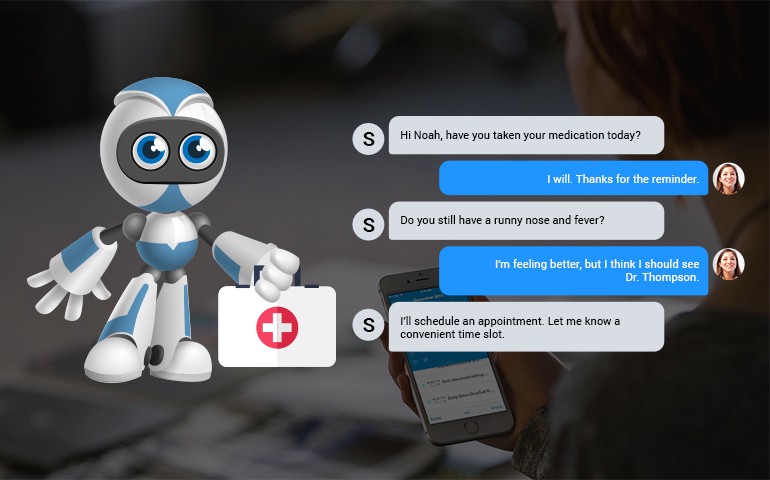 Many industries like retail and service sector, the education sector and many more make use of Chatbots. The health industry has not widely adopted the chatbots, but soon it will be a game changer. Apart from cost-saving benefits, it can help in scheduling the doctor's appointment; notify the nurse in case of critical condition and monitoring the health status of the patient.
The Conversational Chatbots provide patients to directly interact and discuss their health issues to get the best possible treatment. In fact, they can be helpful in giving minor first aid that is not as complex as other diseases. However, chatbots in healthcare sectors are still in beta, which might not be possible to replace them as a substitute for proper medical care. Moreover, the applications and use of chatbots 24/7 will lead to a healthier future in the healthcare industry.
Artificial Intelligence (AI) in Healthcare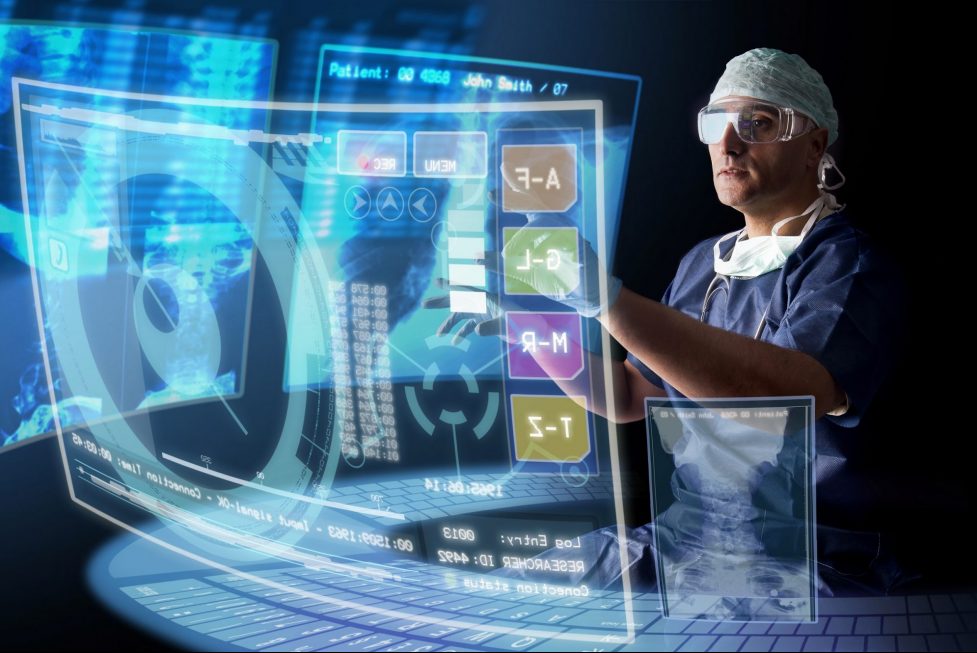 This is one of the major healthcare technology trends. Building Artificial Intelligence machines, that can process information and provide decision-making data, has given rise to an entirely new sector of innovative health technologies. AI applications can enhance the speed and accuracy of the diagnosis process. The technology can also identify concerning developments and allow doctors to start looking at possible approaches for early treatment. Machine learning algorithms are used to safely explore chemical and biological interactions in the drug discovery process, bringing new drugs to market faster.
"AI tools can live up to the expectation for infection control and antibiotic resistance," Erica Shenoy, MD, PhD, Associate Chief of the Infection Control Unit at MGH.
Sense.ly, a clinical platform at San Francisco has developed Molly, a digital nurse to monitor the patient's condition and follow up with treatments, between doctor visits.
Also, applications like Babylon in the UK, use this technology to give medical consultation based on medical history and common medical knowledge.
Blockchain in Healthcare
At present, one of the most revolutionary technologies is BlockChain. This technology provides better management, streamlined processes, and proper security. Hence, technology plays a key role in solving the most crucial healthcare issues that require collective research.
The centers for disease control and prevention are building blockchain-based systems, to share data on threatening bacteria, to analyze outbreaks, and manage the response to public health crises
Moreover, blockChain technology provides documenting the transactions in a decentralized record. It provides a smarter solution to safeguard the patient's information. The technology prevents unauthorized individuals from accessing the information. On the other hand, it also simplifies the complex medical billing process by eliminating the series of validations.
Also, read on Hospital Management System
Final thoughts
However, these trending technology will prove to be a game changer in the overall improvement of the health sector. Not only it benefits patients, but also the entire hospital staff and doctors. Let's wait and watch the upcoming changes and improvements in the health sector through the deployment of technology.