Photo and video-sharing social networking platform, Instagram wants to shake things up a bit. A couple of weeks ago,  The platform was working on few interesting updates. Some of the Instagram new features include "Promote for Stories", "Instagram Analytics" and "Share IGTV Videos to Your Story".
Jane Manchun Wong, a social media prosecutor shared few screenshots, presenting the upcoming features of Instagram via her official Twitter Account. Let's take a sneak peek on the latest features of Instagram.
Instagram Testing New Profile Layout
Instagram is reportedly testing a new Profile Layout which is totally different from the existing one. As shown in the above image, you can easily find the difference between the new layout and the one which is currently available.
For instance, Grid, Posts, and Tagged are no longer just icons. The highlight has got its own place on the Profile Layout. On having a closer look you will also notice at the bottom right of the profile layout is going to be replaced by your current profile picture.
Instagram Is Working on Countdown Sticker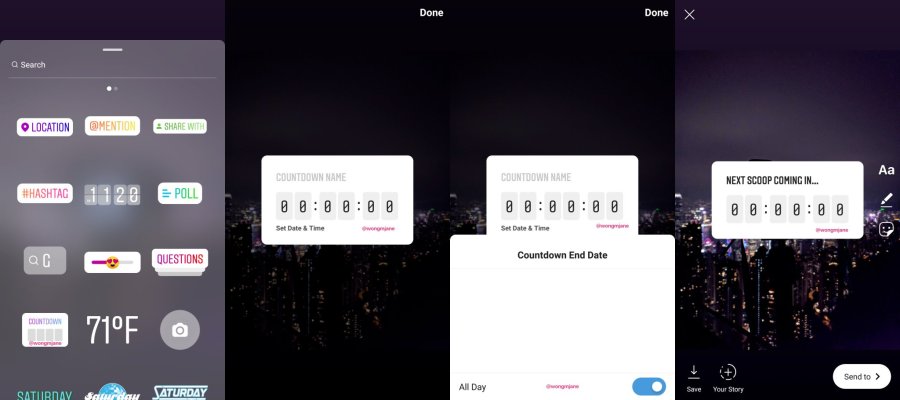 Instagram users will soon have a Countdown Sticker in the app. The sticker functions similar to an alarm app on your smartphone. The new feature will let you even name your countdown stickers, giving you full control and letting you add multiple stickers with different names.
However, you will be able to set the 'end date/time' or even make it 'all day'. Advertisers and Celebrities can take full advantage of this new sticker by setting an upcoming event reminder.
Instagram Working on a New Feature – School Tag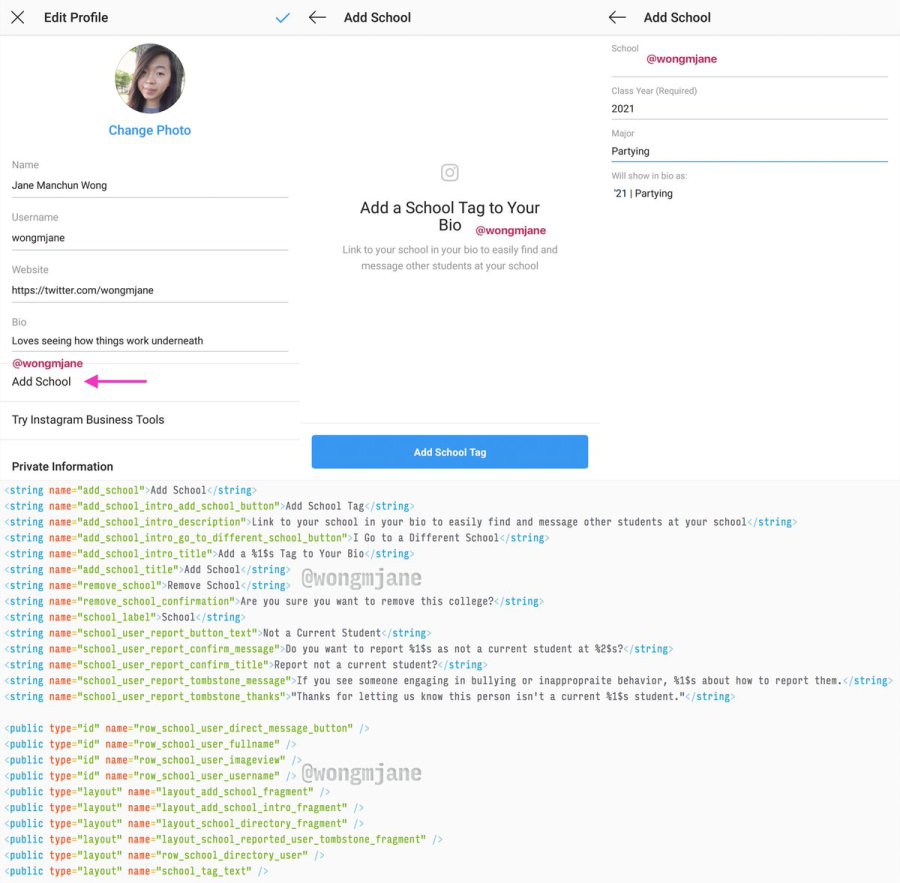 This feature benefits students to find other students of a similar field and message them directly. However, you can get connected only if the particular student and you belong to the same school/university.
To take advantage of this feature you need to link your school in your bio and you are done. The School Tags in the bio include the name of the college, class year and branch.
All these features are currently in beta and will eventually make it to the public when it is ready. Hope you enjoy these features once they are live. Comment your view on these latest updates.
As always, we'll keep you in the loop with the latest social media and technology trends. Follow us on  Instagram   Facebook   Linkedin and Twitter