Facebook is frequently updating surprising features to encourage user interaction. Recently Facebook was testing two new features "Your Time On Facebook" which displays the total time frame you spent on the Facebook and "Highlights Feature"  to save your stories beyond 24hrs.
Airplane Reaction Appeared in Facebook News Feeds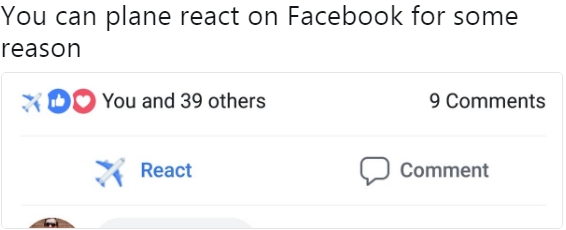 A new emoji reaction found on facebook today! Did you guys notice it?
If no, here is a detailed guide.
Let's dig-in…
Group of Android users noticed a change on facebook today, they found a new emoji reaction option appeared—shaped like an airplane.
Few users reported, saying it only worked on the Android platform when you update the app and clear out the cache. The new airplane emoji has tons of speculation. Many assumed it as a new feature that Facebook was testing out.
In response to the rising questions, the Facebook spokesperson commented…
The new emoji was a bug, not a feature. "This was created as part of an employee hackathon and wasn't cleared for takeoff,"
Nonetheless, it's still unclear that how long the feature or glitch remain active. So, if you have this option to plane react, enjoy it before the feature disappears.
Stay connected to find interesting trends and updates on your favorite social media. Do comment your reviews.