We all love watching videos on youtube. Right?
Are you one among those, who spend watching videos round the clock and later regret on spending a lot of time on it.
If you are likely to do this often, YouTube has a new feature to manage your time.
Youtube to soon introduce "Time Watched" feature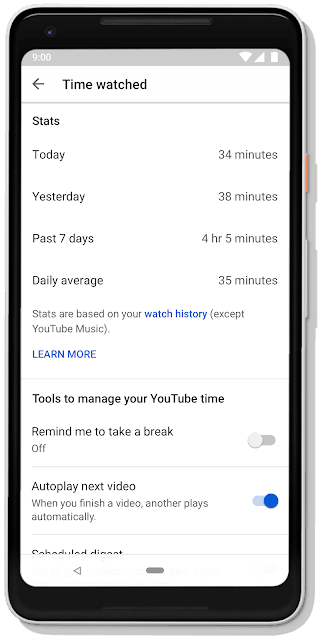 YouTube now joins other social giants. Resembling Instagram "All caught up feature" and Facebook "Your time on Facebook, the video-sharing application is updating "Time Watched" feature aimed specifically at helping people track how much time they spend on their devices
"Our goal is to provide a better understanding of time spent on YouTube, so you can make informed decisions about how you want YouTube to best fit into your life,"
Let's see how the feature actually works.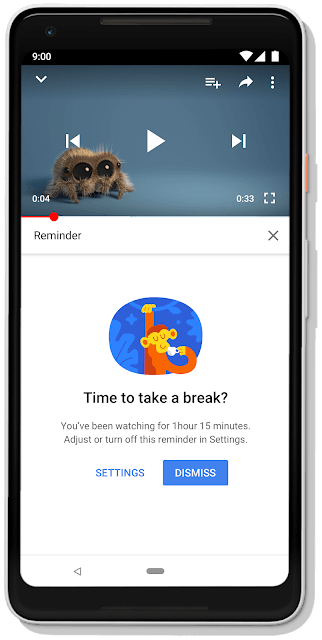 To find the Time Watched menu in the YouTube app, just head towards Account menu by tapping on your profile picture in the top right-hand corner. Then click on the Time Watched option, and you will find your time results. However, you will be able to see how long you have watched YouTube videos on a particular day, the previous day, and over the past week.
Moreover, Users can also set reminders to alert them of how much time they're spending watching videos. Once you set the reminder, YouTube will show a pop-up advising user to take a break from watching videos.
These results are based on the user's watch history. But, If you delete videos from your history or view them in  Incognito Mode, it is not possible to track time. 
Google's Vice President of product management Sameer Samat points out that;
"Helping people with their digital well-being is more important to us than ever." 
Apart from this, it also provides users to control the notifications they receive from YouTube.Users can now group all their push notifications into one daily notification, as well as you can schedule time for when you want to receive the notification.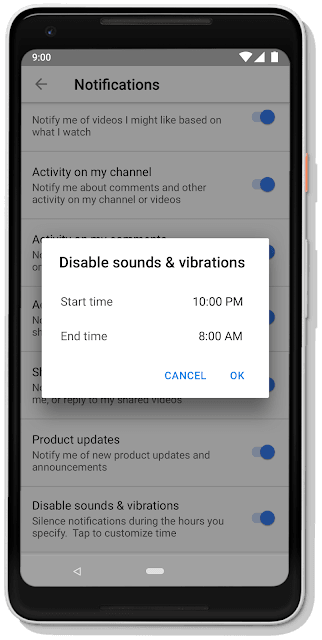 Beyond that, YouTube allows users to disable vibrating notifications between 10 p.m. and 8 a.m. So that the users are not disturbed when it's time for bed.
YouTube paves the way as the most strong social media channel. We will keep you updated with all the trending news and updates on social media – Stay in touch.
Follow us on Twitter, Facebook, Linkedin, Instagram , Google+