Instagram is among a breed of smart phone apps which have tapped into the creative, image-based online life of young people.
If you are a beginner and wish to promote your business via Instagram, this article will be a starting point and guide you for your advertising campaigns.
Instagram advertising
Establishing your own business requires proper planning and the right resources, killing business strategy, and profitable marketing techniques.
Instagram advertising is a method of paying to post a sponsored content on the Instagram platform to reach a larger and more targeted audience. However, by sponsoring content, you pay Instagram to put your ads in front of the audience you want to reach. This increases brand exposure, huge traffic, and convincing people to buy from you
People react better to images and videos than texts and slogans.
Also Read: Instagram to add more classy features in coming days
Instagram Ad Formats
Photo Ads 
Attract your audience with an engaging picture
With photo ads, businesses can describe the products. Following are the parameters to follow publishing a photo Ad.
File type: jpg or png
Maximum file size: 30MB
Square
Minimum Resolution (600 x 600 pixels)

Maximum Resolution (1936 x 1936 pixels)
Landscape
Minimum Resolution (600 x 315 pixels)

Maximum Resolution (1936 x 1936 pixels)
Vertical
Minimum Resolution (600 x 750 pixels)

Maximum Resolution (1936 x 1936 pixels)
Video Ads
"The beauty of developing a video marketing plan is that you are making it easier for the viewer to be exposed to the information you are trying to communicate."
Yes it's true, bring your ad to life with a video!
You can make Instagram video ads up to 60 seconds long, but the first 30 seconds of a social video is what actually matters. If you can engage your audience within that time, they are more likely to be interested in your brand, It is  recommended to use H.264 compression, square pixels,  progressive scan, fixed frame rate, and stereo AAC audio compression at 128kbps+
Video Resolution: 1080 x 1920 pixels (at least)
Maximum file size: 4GB
Video Ratio: 9:16 maximum
Video Duration: 15 seconds maximum
Carousel ads
Now, this is something exciting!!! With carousel ads, Instagram users can swipe to see multiple images. Instead of text with one image or video, this feature allows advertisers to tell a small story in their Ads. The carousel format allows you to choose maximum 10 images within a single ad, each with its own link.  Apart from the image, it can also contain videos.
Both users and advertisers are benefited by this format. It ensures advertisers promote their product with a small story. On top, it brings more visual information on a product they are interested in.
Minimum Image Width: 400 pixels
Minimum Image Height: 150 pixels
Related Coverage: Interesting and Creative Updates of Instagram , Don't Miss to Take a Glimpse
Stories Ads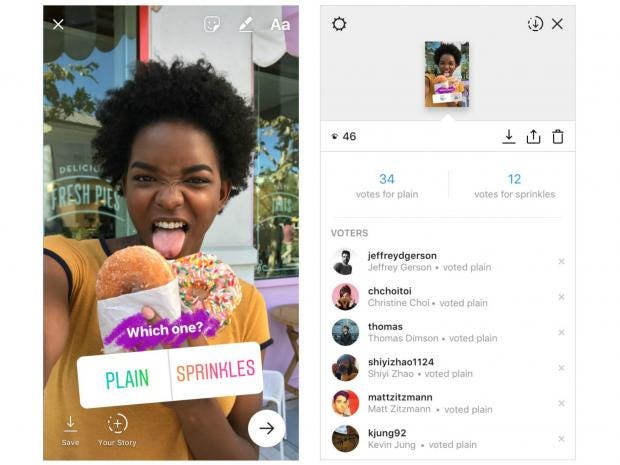 As we know, this ad format occurs only for 24 hrs. It offers business profiles a great opportunity to reach maximum folks. You can add images or videos as a 24 hr story. Beside this, Story setting enhances your ad by adding CTA (Call to Action) on your poll.
Image Ratio: 9:16 recommended
Minimum Image Width: 600 pixels
Canvas Story Ads
Canvas ads are pretty interesting format that allows you to create attractive, 360-degree virtual reality experiences for your customer. But, creating these kinds of ads include some technical skill and an audience should make use of  VR, so this option is used in a rare condition.
Page setup and adding URL
This step acts as a final touch -up to your ad. Once you are done with the particular ad format, it is very important to add the following parameters to enhance your ads. Make sure you don't add URL because in Instagram URLs are not clickable.
Caption
captions give the description for a particular ad. Make sure your captions are catchy and attractive to the audience. Don't forget to add hashtags –  using # tags is an effective strategy to reach a wide-ranging audience.
Present Instagram caption limit – 2,200 words
Present Instagram Hashtags limit – 30 hashtags
Call to actions
Call to Action is a sticky button/link that invites/call your audience to reach on a particular point to contact for products/service they like. There are different options for a call to action, depending on your business. Few of those are as follows;
Learn More

Apply Now

Book Now

Contact Us

Download

Hope Now

Sign Up

Watch More
Cost estimation 
The first question arises when you think of advertisement on social media is, how much does it cost? and the common answer is "It depends". Yes, its true,  no matter how big or small your company is, you should always be looking for ways to reduce costs and improve your return on investment.
Instagram Ads run through an auction system. However, advertisers set a budget – the total amount they wish to spend, either daily or lifetime. However, the one with the highest bid will get published at the top. Meaning that if a user opens their Instagram and starts scrolling through their feed, the highest bidder's Ads will be on top of the news feed.
This overall cost depends on the following factors 
Advertiser bid:

represents how much the advertiser values the result that their ad is optimized for

Estimated action rates:

represents the likelihood of a user completing the action that an ad is optimized for

Ad quality and relevance: shows

 the likelihood of a user being interested in seeing your ad
There are different types of bidding options, or ways you can pay for ads. These include:
Cost per click (CPC): You are paying only when a user clicks on your Ad. They do not have to purchase on your site or sign up to a page; they just have to click.
Impressions (CPM): You are paying for cost per 1,000 impressions. The cost per impressions is much lower than a cost per click.
Cost per action (CPA): You are paying for a specific action to be taken.
Cost per like:  This will allow you to pay for each like you get from your ad.
Conclusion
Instagram advertising may not be the first platform for digital marketing, but now other social media platforms has acquired a huge bulk of business users. Moreover, it can be a great platform to advertise because of its targeting options and booming analytics dashboard. If you are planning to advertise your brand, just follow the above steps and take your business to a new peak.
Share this article if you like or comment below your opinion!